You are here
Back to top
In My Mosque (Hardcover)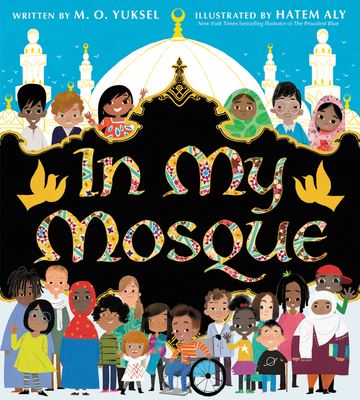 $17.99

Usually Ships in 1-5 Days
Description
---
Don't miss out on this beautiful celebration of Islam and mosques as spaces for spiritual gathering!
Step in and discover all the rituals and wonder of the mosque in this lyrical debut picture book from M. O Yuksel, with gorgeous artwork from New York Times bestselling illustrator Hatem Aly. A great conversation starter in the home or classroom, this book is perfect for fans of All Are Welcome and The Proudest Blue.
No matter who you are or where you're from, everyone is welcome here. From grandmothers reading lines of the Qur'an and the imam telling stories of living as one, to meeting new friends and learning to help others, mosques are centers for friendship, community, and love.
M. O. Yuksel's beautiful text celebrates the joys and traditions found in every mosque around the world and is brought to life with stunning artwork by New York Times bestselling illustrator Hatem Aly (Yasmin series, The Proudest Blue, The Inquisitor's Tale). The book also includes backmatter with an author's note, a glossary, and more information about many historical and significant mosques around the world.
"This personable, sensory love letter to a range of children's mosque experiences will engage new learners and resonate with those already familiar." —Publishers Weekly (starred review)
"This marvelous, welcoming book on mosques, Muslims, and Islam is a must, offering foundational knowledge on the world's second largest religion." —School Library Journal (starred review)
"Young readers are welcomed to a mosque brimming with faithful family, friends, and community. Both text and art convey some tenets of Islam and emphasize the mosque's role as a place for faith and celebration." —Horn Book
"Joyful characters describe what happens in simple, poetic language. Both a celebration of and an introduction to the mosque." —Kirkus
"Joyful celebration of mosques around the world. Themes of family and friendship prevail, along with references to spirituality." —Providence Journal
A School Library Journal Best Book of 2021 · A Chicago Public Library Best Book of 2021 · An ALA 2022 Notable Children's Book · A Junior Library Guild Gold Standard Selection · Society of Illustrators Original Art Show Selection · A New York Public Library 2021 Summer Recommendation Reading List Pick · A 2021 Nerdy Book Club Award Winner for Best Nonfiction Picture Book · A 2022 Texas Topaz Nonfiction Reading List title · An Ontario Library Association Best Bets Top Ten List · A Wisconsin State Reading Association 2022 Picture This Recommendation · A CCBC 2022 Best Choice of the Year · Winner of the 2021 Undies Award for Fanciest Case Cover · A 2022 Notable Book for a Global Society · Also Featured on: USA Today, PBS.org, Bookriot, Chicago Parents, The Horn Book!
About the Author
---
M. O. Yuksel's debut picture book, In My Mosque, is a Junior Library Guild Gold Standard selection and was praised as "marvelous" and "a must" in School Library Journal and Publishers Weekly starred reviews. A graduate of Fordham University and Columbia University, M. O. Yuksel loves writing about diverse cultures and inspiring female role models. For more information about her books, please visit her online at www.moyuksel.com.
Hatem Aly is an Egyptian-born illustrator whose work has been published all over the world. When he was a child, he would imagine shapes forming on the mosque's carpet if he stared down long enough, which then swiftly disappeared and transformed into beautiful patterns when he looked up. He is pretty much the same as a grown up, too. His illustrations have earned multiple starred reviews and positions on the New York Times bestseller list including The Proudest Blue (with Ibtihaj Muhammad & S.K. Ali), the Yasmin series (with Saadia Faruqi), and The Inquisitor's Tale (with Adam Gidwitz). He currently lives in beautiful New Brunswick, Canada, with his wife, son, and more pets than people.
Praise For…
---
"This marvelous, welcoming book on mosques, Muslims, and Islam is a must, offering foundational knowledge on the world's second largest religion." — School Library Journal (starred review)
"This personable, sensory love letter to a range of children's mosque experiences will engage new learners and resonate with those already familiar."  — Publishers Weekly (starred review)
"Joyful characters describe what happens in simple, poetic language. Both a celebration of and an introduction to the mosque."
— Kirkus Reviews
In My Mosque draws readers into the Muslim house of worship to show how it is so much more than a place to pray. . . Aly's (The Proudest Blue, 2019) illustrations echo the warmth of Yuksel's text, depicting loving, happy communities, rich in diversity of all sorts. The striking use of geometric patterns found in Islamic art and architecture might inspire classroom art projects to complement a narrative study of houses of worship. — Booklist
"Young readers are welcomed to a mosque brimming with faithful family, friends, and community. Both text and art convey some tenets of Islam and emphasize the mosque's role as a place for faith and celebration." — Horn Book Magazine
"Joyful celebration of mosques around the world. . . Themes of family and friendship prevail, along with references to spirituality." — Providence Journal