You are here
Back to top
The Great Texas Dragon Race (Hardcover)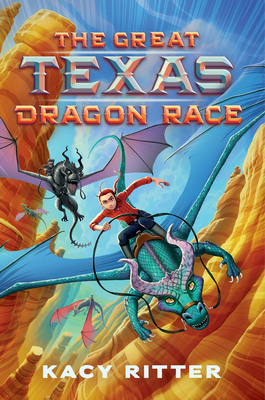 $19.99

Usually Ships in 1-5 Days
Description
---
Wings of Fire meets The Hunger Games in this debut contemporary middle grade fantasy stand-alone about thirteen-year-old Cassidy Drake, who enters the dangerous Great Texas Dragon Race to save her family's dragon sanctuary.
Thirteen-year-old Cassidy Drake wants nothing more than to race with her best dragon, Ranga, in the annual Great Texas Dragon Race. Her mother was a racing legacy, and growing up on her family's dragon sanctuary ranch, Cassidy lives and breathes dragons. She knows she could win against the exploitative FireCorp team that cares more about corporate greed than caring for the dragons. 
Cassidy is so determined to race that she sneaks out of her house against her father's wishes and enters the competition. Soon Cassidy takes to the skies with Ranga across her glorious Lone Star State.
But with five grueling tasks ahead of her, dangerous dragon challenges waiting at each one, and more enemies than allies on the course, Cassidy will need to know more than just dragons to survive. 
About the Author
---
Kacy Ritter is a fantasy geek who has lived all across the Lone Star State. She holds degrees from the University of Texas at Austin and the University of North Texas, and currently resides in Houston with her partner and their daughter. She daylights as a healthcare professional, and loves writing at the intersection of fantasy and Texas Americana.
Praise For…
---
"In this adrenaline-fueled debut, Ritter fashions a contemporary world infused with an energetic Wild West atmosphere teeming with rich lore and all manner of dragon species. Through Cassidy's joyful and indomitable first-person voice, Ritter organically examines themes of privilege, financial inequality, and ecological conservation." — Publishers Weekly (starred review)
"A high-stakes, fast-paced, dragon-filled underdog story." — Kirkus Reviews
"Hang on to your hats! This wildly imaginative dragon story is about to take you on the ride of your life." — Lisa McMann, NYT bestselling author of The Unwanteds and The Forgotten Five
"Hugely enjoyable and imaginative, this is a pulse-pounding page-turner of a book, packed full of adventure and with a heart the size of Texas. You won't be able to put it down!" — Aisling Fowler, author of the Fireborn series