You are here
Back to top
Where the Lockwood Grows (Hardcover)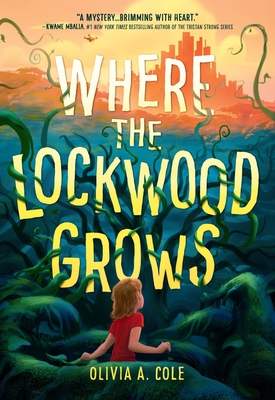 $16.99

Usually Ships in 1-5 Days
Description
---
"A mystery...brimming with heart." —Kwame Mbalia, #1 New York Times bestselling author of the TRISTAN STRONG series
A lyrical and environmentally-focused story about sisterhood, adventure, and activism—perfect for fans of The Last Cuentista and The City of Ember.
Twelve-year-old Erie has never lived life fully in the sunlight. After destructive wildfires wreaked havoc on the world around her, the government came up with a plan—engineer a plant that cannot burn. Thus, the fire-resistant lockwood was born. The lockwood protects Erie and her hometown of Prine, but it grows incredibly fast and must be cut back every morning. Only the town's youngest and smallest citizens can fit between the branches and tame the plant. Citizens just like Erie.
But one evening, Erie uncovers a shocking secret that leads her to question the rules of Prine. Alongside her older sister, Hurona, she'll journey from the only home she's known and realize that the world is much more complicated than she'd ever imagined. Packed with surprising twists and a cast of courageous characters, this gripping novel encourages readers to stand up for justice and challenge the status quo.
About the Author
---
Olivia A. Cole is a writer from Louisville, Kentucky. Her essays, which often focus on race and womanhood, have been published in Bitch Media, Real Simple, The LA Times, HuffPost, Teen Vogue, Gay Mag, and more. She teaches creative writing at the Kentucky Governor's School for the Arts, where she guides her students through poetry and fiction, but also considerations of the world and who they are within it. She is the author of several books for children and adults. Learn more about Olivia and her work at oliviaacole.com and follow her on Twitter @RantingOwl.
Praise For…
---
This book is a wonderful breath of fresh air, a mystery of nature and our environment that is brimming with heart. Read, learn and fall in love with Erie's adventure to save her home and her family.—Kwame Mbalia, #1 New York Times bestselling author of the TRISTAN STRONG series

Olivia Cole is quite simply one of the finest and most unafraid storytellers....She listens, and then she translates, in bold and beautiful words, all the things that matter to her, and most definitely should to us.—Kwame Alexander, #1 New York Times bestselling author of THE DOOR OF NO RETURN

Readers who enjoy books about science and the environment will love this.—Booklist

Lyrical, imaginative, and timely– WHERE THE LOCKWOOD GROWS not only makes readers think about their place in the natural world and their own personal responsibility, but is also a gripping and entertaining adventure.—Jasmine Warga, New York Times bestselling author of OTHER WORDS FOR HOME

Beautifully written and full of insight and adventure, Where the Lockwood Grows is a timely, ambitious story about justice and finding one's place in the world.—Ashley Herring Blake, award-winning author of IVY ABERDEEN'S LETTER TO THE WORLD