You are here
Back to top
The ABCs of AOC: Alexandria Ocasio-Cortez from A to Z (Hardcover)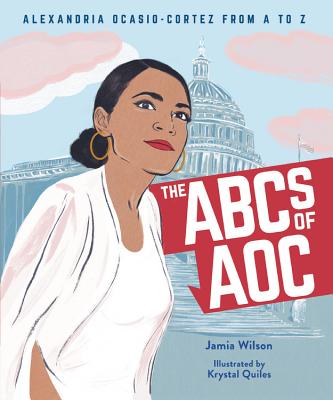 Description
---
The ABCs of AOC is an inspiring, educational, and giftable book about the representative taking Congress--and the media--by storm.
This empowering and informative book is the perfect conversation starter for young people interested in government and activism, and the ultimate gift for anyone who wants to learn more about Alexandria Ocasio-Cortez.

From Advocate to Feminist, Grassroots to Queens, and Revolutionary to Zeal, The ABCs of AOC introduces readers to values, places, and issues that relate to Alexandria Ocasio-Cortez's life and platform. A clear and engaging explanation of each term is paired with a stunning, contemporary illustration that will delight readers. This is an alphabet book like no other!

The book closes with a wealth of information expanding on the A-Z of concepts introduced, for readers ready to learn more about the revolutionary congresswoman and the US government. Packed with vibrant art and fascinating facts, this tome is perfect for Alexandria Ocasio-Cortez admirers, and readers of Notorious RBG, I Dissent!, and Rad American Women A-Z!


About the Author
---
Jamia Wilson is a feminist activist and author based in New York City. Her work has appeared in numerous outlets, including the New York Times, the Today Show, CNN, Elle, BBC, Rookie, Refinery 29, Glamour, and the Washington Post. She is the author of Young, Gifted, and Black, and the introduction and oral history in Together We Rise: Behind the Scenes at the Protest Heard Around the World, and Step Into Your Power: 23 Lessons on How to Live Your Best Life. She invites you to visit her online at jamiawilson.com.

Krystal Quiles is an up-and-coming artist from the Bronx, NY. Krystal studied illustration and fine arts at Pratt Institute, graduating with a BFA in Communication Design in May 2014. Now working as a Freelance Illustrator based in Brooklyn, Krystal creates pieces that are lively, fun and dimensional while embracing what it is to be a girl. This is her first book.