You are here
Back to top
Simon B. Rhymin' (Hardcover)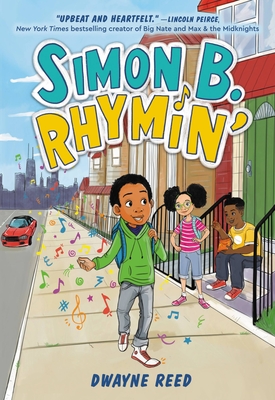 $16.99
Usually Ships in 1-5 Days
Description
---
A humorous and heartwarming bounce-to-the-beat underdog story about a young rapper whose rhymes help bring his community together.

Eleven-year-old Simon Barnes dreams of becoming a world-famous rapper that everyone calls Notorious D.O.G. But for now, he's just a Chicago fifth grader who's small for his age and afraid to use his voice.

Simon prefers to lay low at school and at home, even though he's constantly spitting rhymes in his head. But when his new teacher assigns the class an oral presentation on something that affects their community, Simon must face his fears.

With some help from an unexpected ally and his neighborhood crew, will Simon gain the confidence to rap his way to an A and prove that one kid can make a difference in his 'hood?
About the Author
---
Dwayne Reed is America's favorite rapping teacher from Chicago. In 2016, the music video for his hit song, "Welcome to the 4th Grade," went viral and has since been viewed nearly two million times on YouTube. When he's not writing, rapping, or teaching, Dwayne can be found presenting at educator conferences across the U.S., or loving on his beautiful wife, Simone.
Praise For…
---
"Upbeat and heartfelt, 
Simon B. Rhymin' 
is a sure-fire hit!"—
Lincoln Peirce, New York Times bestselling creator of Big Nate and Max & the Midknights
"I love Simon. I love his heart, his rhythm and rhyme. We've been needing his voice for a long, long time."—
Liesl Shurtliff, New York Times bestselling author of Rump
"An authentic voice, strong friendships and loads of laughs make rhymin' Simon a winner."—
Tom Watson, author of Stick Dog
"A heartwarming tale that combines Black boy joy with community connection."
 —
Kirkus Reviews
"Dwayne Reed has succeeded in writing a story about a boy who is enjoying his life, exploring this theme without overtly coming across as teaching a lesson to readers."—
School Library Connection
"This uplifting, realistic story of a young Black boy lyricist is a strong addition to any library collection."
—
School Library Journal