You are here
Back to top
El Crossover: Crossover (Spanish Edition), A Newbery Award Winner (The Crossover Series) (Hardcover)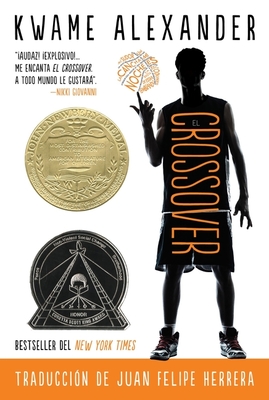 Description
---
Ganador de la Medalla Newbery · Ganador del Premio Coretta Scott King · New York Times Bestseller · 2015 YALSA 2015 Top Ten Best Fiction for Young Adults· 2015 YALSA Quick Picks for Reluctant Young Adult Readers · Publishers Weekly Best Book · School Library Journal Best Book· Kirkus Reviews Best Book
"Una hermosa novela medida entre la vida y sus líneas."—New York Times Book Review
Un rayo de luz en mis kicks …
La cancha está QUEMANDO.
Mi sudor está LLOVIZNANDO.
Ya 'stuvo con eso de estar temblando.
Es que esta noche voy entregando.
El fenómeno del básquetbol, Josh Bell, y su hermano gemelo, Jordan, son los reyes de la cancha, con esos crossovers inesperados que hacen llorar a los jugadores más duros. Pero cuando Jordan conoce a la nueva chica del colegio, lazos entre los gemelos se empiezan a desanudar. El baloncesto y la hermandad se entrelazan para mostrarles a Josh y Jordan que la vida no viene con un manual de jugadas y que, a veces, el asunto no es ganar.
Now in Spanish! Winner of the Newbery Medal and Coretta Scott King Award, and a New York Times bestseller. Basketball and heartache share the court in this slam-dunk novel in verse. 
A bolt of lightning on my kicks . . .
The court is SIZZLING.
My sweat is DRIZZLING.
Stop all that quivering.
Cuz tonight I'm delivering.
Basketball phenom Josh Bell and his twin brother, Jordan, are kings on the court, with crossovers that make even the toughest ballers cry. But when Jordan meets the new girl in school, the twins' bond unravels. Basketball and brotherhood intertwine to show Josh and Jordan that life doesn't come with a playbook and, sometimes, it's not about winning.
About the Author
---
Kwame Alexander is the New York Times bestselling author of thirty-two books, including The Undefeated; How to Read a Book; How to Write a Poem; Solo; Swing; Rebound, which was shortlisted for the prestigious Carnegie Medal; and his Newbery Medal–winning middle grade novel The Crossover. He's also the founding editor of Versify, an imprint that aims to Change the World One Word at a Time. Visit him at kwamealexander.com
Dawud anyabwile is an Emmy Award-winning artist and the cocreator and illustrator of the groundbreaking comics series Brotherman: Dictator of Discipline, which is cocreated and written by his brother, Guy A. Sims. Dawud has also worked as a character designer on television productions such as The Wild Thornberrys and Rugrats as well as served as a production artist on a variety of music videos, commercials, and game animations.
Juan Felipe Herrera is the U.S. Poet Laureate and was inspired by the fire-speakers of the early Chicano Movement and by heavy exposure to various poetry, jazz, and blues performance streams. His published works include 187 Reasons Mexicanos Can't Cross the Border: Undocuments 1971–2007; Border-Crosser with a Lamborghini Dream; Mayan Drifter: Chicano Poet in the Lowlands of the Americas; Thunderweavers/Tejedoras de Rayos; Laughing Out Loud, I Fly, a Pura Belpré Honor Book; Américas Award winners Crashboomlove and Cinnamon Girl; Calling the Doves, which won the Ezra Jack Keats Award; and Upside Down Boy, which was adapted into a musical. He has received the National Book Critics Circle Award in poetry as well as a Guggenheim Fellowship and previously served as California Poet Laureate. He has taught at both California State University, Fresno and University of California, Riverside and held the Tomás Rivera endowed chair in creative writing. He lives in Fresno, California.
Praise For…
---
2015 Newbery Medal Winner 2015 Coretta Scott King Honor Award Winner * "This novel in verse is rich in character and relationships. . . . Poet Alexander deftly reveals the power of the format to pack an emotional punch." —Kirkus, starred review * "Alexander fully captures Josh's athletic finesse and coming-of-age angst in a mix of free verse and hip-hop poetry that will have broad appeal. . . . This will inspire budding players and poets alike." —Bulletin of the Center for Children's Books, starred review * "The poems dodge and weave with the speed of a point guard driving for the basket, mixing basketball action with vocabulary-themed poems, newspaper clippings, and Josh's sincere first-person accounts that swing from moments of swagger-worth triumph to profound pain." —Publishers Weekly, starred review * "Alexander has crafted a story that vibrates with energy and heat and begs to be read aloud. A slam dunk." —School Library Journal, starred review "Concrete poems that simulate on-court action, the novel's organization into "four quarters" (plus "warm-up" and "overtime") and a smattering of their father's 10 rules of basketball--as applicable to life as they are to the game--will draw in less avid readers, and the fully-fleshed characters and Josh's spellbinding wordplay will keep all readers riveted to find out if the brothers can mend the breach in their once iron-clad bond" —Shelf Awareness "An accomplished author and poet, Alexander eloquently mashes up concrete poetry, hip-hop, a love of jazz, and a thriving family bond. The effect is poetry in motion." —Booklist "The Crossover is destined to reach—and touch—readers who never gave basketball or poetry a second thought until now. It's tough, muscular writing about a tender, unguarded heart." —BookPage "[Alexander]'s at the top of his poetic game in this taut, complex tale of the crossover from brash, vulnerable boy to young adult." —Washington Post "Since poet Alexander has the swagger and cool confidence of a star player and the finesse of a perfectly in-control ball-handler, wordplay and alliteration roll out like hip-hop lyrics, and the use of the concrete forms and playful font changes keep things dynamic." —Horn Book Magazine "Kwame Alexander's sizzling, heartfelt story-in-verse gives readers that rich sense of SWISH! we feel when a basketball drops perfectly through a net. Quick timing, snazzy cadence, a wealth of energy and deep affection for sports, family and life in general – it's all here, in these gripping scenes." —Naomi Shihab Nye, National Book Award Finalist "The characters of Kwame Alexander's verse-novel entered my heart, as it showed the many ways in which the basketball, the truth, love, and life cross over and between us." —Marilyn Nelson, Newbery Honor winning author  "The Crossover is a masterful mix of rhythm and heart that tells the story of two brothers navigating the deep waters of love, loyalty, and championship play. Alexander's verse is fluid and electric, poignant and wise, skillfully chronicling main character Josh's tough lessons as he comes to realize that "true champions / learn / to dance / through / the storm." —