You are here
Back to top
Nothing's Wrong!: A Hare, a Bear, and Some Pie to Share (Hardcover)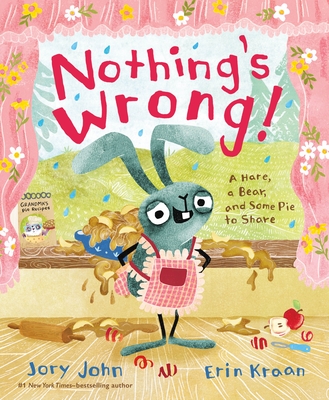 $18.99

Usually Ships in 1-5 Days
Description
---
A laugh-out-loud picture book from #1 New York Times–bestselling author Jory John and illustrator Erin Kraan about a rabbit who insists that nothing's wrong, until a good friend helps him open up—a companion to the popular picture book, Something's Wrong!

Anders does not seem like himself.

He and his friend Jeff are headed for a picnic, but no matter how much Anders insists that he's feeling just fine, Jeff gets the sense that his best friend isn't being totally honest. Should he check in on Anders or give him space? Should he help him out or just be by his side? How can he be a good friend if he doesn't know what his friend might need?

Nothing's Wrong! reminds us that even when nothing seems to go right, a good friend will be there for you at the end of the day.
About the Author
---
Jory John is a #1 New York Times–bestselling author of books for both children and adults. His previous collaboration with Erin Kraan was the popular picture book, Something's Wrong! His work also includes the New York Times–bestselling picture books The Good Egg and The Bad Seed; the award-winning Goodnight Already! series; the popular picture books This Book Will Get You to Sleep!, Penguin Problems, and Giraffe Problems. He lives in Silverdale, Washington.

Erin Kraan is the illustrator of numerous children's books, including I Am Picky by Kristen Tracy and Something's Wrong! by Jory John. She is also a woodcutter and printmaker. You can often find her doodling while drinking coffee and wearing cozy socks that are usually inside out or backwards. She lives in Vancouver, BC.
Praise For…
---
"Imparts a gentle, satisfying message about the importance of a good friend." —Kirkus

"Readers will be laughing out loud while learning the dynamics of friendship from two very different perspectives... The charming characters will have readers rooting for all involved, especially when all the woodland creatures join in the fun. This book is a wonderful exploration of the complexities of friendship and the importance of understanding unspoken cues... A gentle reminder for all ages that life's ups and downs can be shared, this book is a welcome addition to any elementary ­library." —School Library Journal

"A pie that plops, a mood that drops, and a friendship that never stops are the main ingredients of John's latest zany adventure... [The illustrations] create a wonderfully textured, vivid world. A great resolution involves a picnic, many forest animals, and a resounding message about the power of always being there for your friends." —Booklist