You are here
Back to top
Noisemakers: 25 Women Who Raised Their Voices & Changed the World - A Graphic Collection from Kazoo (Hardcover)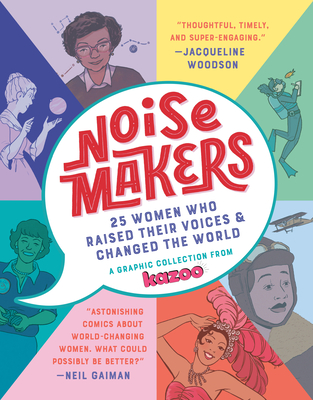 Description
---
"Thoughtful, timely and Super-Engaging. So glad the powerhouse young people coming up have Kazoo as a blueprint, a roadmap, and a glimpse into history." -Jacqueline Woodson

"Astonishing comics about world-changing women. What could possibly be better?"--Neil Gaiman

"All the women in this book were discouraged from doing the work they were born to do. Fortunately, they didn't let that stop them. Here are their riveting stories, told in unputdownable comics. I wish I'd had NOISEMAKERS when I was growing up." -Alison Bechdel

From the creators of Kazoo magazine, a quarterly magazine for girls ages 5-12, which Amy Poehler's Smart Girls called "required reading," comes a graphic novel anthology of women who are not afraid to make some noise!

Did anyone ever get anywhere by being quiet? To change anything, you have to make some noise! From the creators of the award-winning Kazoo magazine comes a look at the lives of 25 extraordinary women through the eyes of 25 extraordinary comic artists. In chapters titled Grow, Tinker, Play, Create, Rally, and Explore, you'll meet Eugenie Clark, who swam with sharks, Raye Montague, who revolutionized the design process for ships, Hedy Lamarr, a beautiful actress and brilliant inventor, Julia Child, a chef who wasn't afraid to make mistakes, Kate Warne, the first female detective, who saved the life of President-Elect Abraham Lincoln, and many more.

In 25 distinct styles from some of the most exciting comic artists, Noisemakers is for everyone who is not afraid to use their voice and for those who could use a little boost.
About the Author
---
Erin Bried is the editor-in-chief of Kazoo magazine. She was the Editor-at-Large at Self magazine. She is also the author of How to Sew a Button, How to Build a Fire, and How to Rock a Baby. She lives in Brooklyn, New York, with her wife and two daughters. Follow her on Twitter and Instagram at @kazoomagazine.
Praise For…
---
"Engrossing…. These pages reinforce a lot of the themes that are at the core of Kazoo's philosophy: the thrill of exploration, the comfort of self-reliance, the joy of being confident in pursuing what you want… biographies include My Favorite Thing Is Monsters' Emil Ferris on Mary Shelley, Relish's Lucy Knisley on Julia Child, Moon Girl & Devil Dinosaur's Alitha E. Martinez on Josephine Baker, and many more, making Noisemakers vital reading for comic fans who want to see the full range of what the medium can offer." —AV Club
 
"Thoughtful, timely and super-engaging. So glad the powerhouse young people coming up have Kazoo as a blueprint, a roadmap, and a glimpse into history." —Jacqueline Woodson

"All the women in this book were discouraged from doing the work they were born to do. Fortunately, they didn't let that stop them. Here are their riveting stories, told in unputdownablecomics. I wish I'd had NOISEMAKERS when I was growing up." —Alison Bechdel 

"Astonishing comics about world-changing women. What could possibly be better?" —Neil Gaiman

"Perfectly-timed, positive, and righteously fun." —Comics Beat
 
"Enticing. Part encyclopedia, part girl-power scrapbook, the collection of biographical vignettes [is] extremely relevant." —Publishers Weekly
 
"A draw-dropping lineup of comics talent." —The Comics Journal
 
"Incredible…. Kazoo shows young girls that the world belongs to them if they work hard for their dreams, even and especially in the face of adversity."  —Women Write About Comics
 
"Great comics work by creators you adore... Really, really fun to read with my daughter." — Multiversity
 
"As you can imagine from the creators KAZOO, this looks like the perfect book for inspiring young girls (and boys too, one hopes). It's a real treasure trove of interesting stories from throughout the ages and a must for schools and libraries as well as all age readers." —Comicon.com
 
"Impressive." —Comics Crusaders
 
"Noisemakers is great for anyone who wants to learn about some amazing women in history alongside some amazing art. … A unique graphic novel that I can't wait to share with others." —The Pullbox
 
"A great way to get readers familiar with these women, along with stoking the fires of creative passion." —Comicsnow