You are here
Back to top
The Magic Mirror: Concerning a Lonely Princess, a Foundling Girl, a Scheming King and a Pickpocket Squirrel (Hardcover)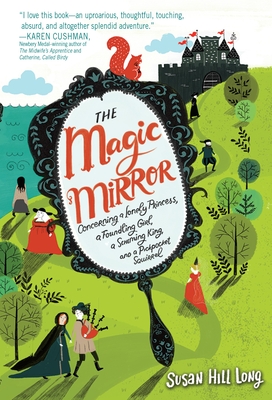 $16.99
Email or call for price.
Description
---
The twisty-turny journey of a girl searching for her heart's desire—glimpsed in a magic mirror. Perfect for fans of Rump or Catherine, Called Birdy
 
A foundling girl with a crooked leg and a crutch doesn't expect life to be easy. Indeed, Maggie's dearest wish is to simply not feel so alone. So when she spies a man behind bars in a magic mirror said to show one's truest desire, she feels sure he is the father she's always longed for—and she sets off on a quest to find him.
 
Along the way, Maggie meets both kindly pilgrims and dastardly highwaymen. She discovers she bears a striking resemblance to the princess Petranilla. Their connection is so remarkable that Petra believes Maggie must be her lost sister who fell from the castle wall and was swept downriver as a baby.
 
What a turn of fate! From reviled foundling to beloved royal! But being the lost princess turns out to be more curse than blessing given the schemes of the current king...  And if Maggie's a princess, then who is the man she spied in the magic mirror?
 
This is a grand middle grade adventure story full of mistaken identities, lost loves, found families, and a tantalizing tinge of magic.

"I love this book—an uproarious, thoughtful, touching, absurd, ans altogether splendid adventure." —Karen Cushman, Newbery Medal-winning author of The Midwife's Apprentice and Catherine, Called Birdy
About the Author
---
SUSAN HILL LONG is the author of Whistle in the Dark, named a best book of the year by Publishers Weekly. She lives in Portland, Oregon with her husband and two daughters. You can read more about her work at SusanHillLong.com.
Praise For…
---
"I love this book—an uproarious, thoughtful, touching, absurd, ans altogether splendid adventure." —Karen Cushman, Newbery Medal-winning author of The Midwife's Apprentice and Catherine, Called Birdy

"In a word—extraordinary!" —Heather Vogel Frederick, author of The Mother-Daughter Book Club

"This book may be about a magic mirror, but it casts a magic spell of its own on the reader. Brilliant!" —Kirby Larson, Newbery Honor–winning author of Hattie Big Sky
 
"Susan Hill Long has managed to pack everything I love into one book: adventure, humor, mystery, friendship, romance, magic, and even a pickpocket squirrel! The Magic Mirror is that rare gem of a book that everyone will love." —Barbara O'Connor, author of How to Steal a Dog
 
"Young readers will cheer for the brave heroine at the center of this adventure, which is filled with mystery, intrigue, and laughter. I loved Maggie and her story!" —Augusta Scattergood, author of Glory Be
 
"Long's story is full of twists and surprises. Margaret may not get a traditional happy ending, but her triumph proves all the more satisfying for it." -- Publishers Weekly

"A magic mirror, traded for Margaret's crutch, sets off a merry fugue of medieval travels. Although the focus continually returns to Margaret, the lives of a delightful cast of characters, including her sullen mistress, a wily peddler, a boy with bagpipes, a monk, a beggar, a lonely and frightened princess, and even the wild-eyed man whose face appears to Margaret in the mirror, are gradually untangled and rewoven together." -- School Library Journal

"Margaret's so earnest and charming that it's impossible not to root for her."--Bulletin