You are here
Back to top
Banana (Hardcover)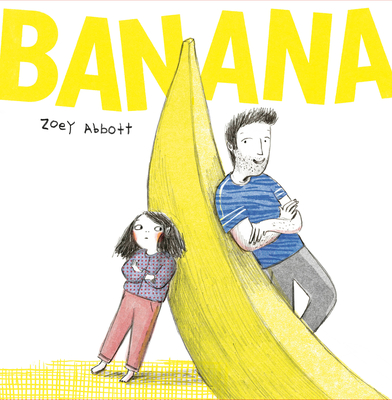 $18.99

Usually Ships in 1-5 Days
Description
---
A quirky and hilarious picture book parable about parental distraction and a daughter's clever solution.

My dad is the best.

We love hanging out together.

Recently, he got this banana. At first, we had a great time with the banana — it does cool stuff and it's really fun.

But lately he's spending too much time with the banana. He's distracted, and he's not enjoying the things he used to enjoy, like hanging out with me.

I don't think this banana is good for him.

It's time to take action.

Zoey Abbott tackles parental distraction in a quirky and hilarious way in this parable about too much of a good thing. With her trademark wit and engaging illustrations, she introduces a very wise kid and a not-so-wise parent who eventually see eye to eye in a story that will delight readers of all ages.

About the Author
---
ZOEY ABBOTT is a graduate in Women's Studies and History from Smith College. She spent four years living and painting in Japan. Zoey is the author and illustrator of I Do Not Like Yolanda and she currently lives in Portland, Oregon, with her husband, kids and two dogs: Carrots and Maple. Zoey has nothing against bananas. She likes them, actually! They also happen to be one of the only fruits that do not make her throat and ears itch.


Praise For…
---
"A cautionary tale about overreliance on devices that's sure to be the apple of many readers' eyes." —Kirkus Reviews

"[A] visually striking allegory about the dismay and jealousy a child may feel over change — and this young protagonist's triumph gives the tale a sense of dark, unexpected gratification." —Publishers Weekly

"Abbott succeeds in conveying the see-saw nature of childhood. One minute, a parent is attentive to your needs. Then, he becomes immersed in some pointless activity. Naturally, readers might see a reverse metaphor in the story, as any parent frustrated by a child's inattentiveness will recognize. In Abbott's world, the generations are not in contradiction; they might exchange roles." —Imaginary Elevators