You are here
Back to top
Chef Yasmina and the Potato Panic (Hardcover)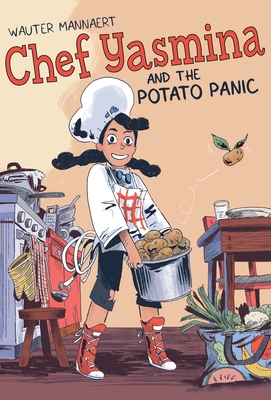 $22.99

Usually Ships in 1-5 Days
Description
---
An American Library Association 2021 Best Graphic Novel for Children

In this silly, action-packed graphic novel, a young chef must protect her town from an onslaught of scientifically enhanced, highly addictive potatoes!

Yasmina isn't like the other kids in her city. Maybe it's the big chef hat she wears. Or the fact that she stuffs her dad's lunchbox full of spring rolls instead of peanut butter and jelly. She might be an oddball, but no one can deny that Yasmina has a flair for food. All she needs to whip up a gourmet meal is a recipe from her cookbook and fresh vegetable form the community garden.

But everything changes when the garden is bulldozed and replaced with a strange new crop of potatoes. Her neighbors can't get enough of these spuds! And after just one bite their behavior changes—they slobber, chase cats, and howl at the moon. What's the secret ingredient in these potatoes that has everyone acting like a bunch of crazed canines? Yasmina needs to find a cure, and fast!
About the Author
---
Wauter Mannaert, born in 1978, has a master's degree in film and animation from the Saint Luc Arts Institute in Brussels, which he obtained in 2002. He currently works in the Belgian capital as a graphic novelist, illustrator, and cartoonist. Following his studies, and before turning towards comics, he specialized in media education and worked for years with youth in one of Brussels' most deprived neighborhoods. In 2015, his graphic novel El Mesías (written by Mark Bellido) was published in Dutch by Ballon, joining the Europe Comics catalog in English in 2017. And in 2016, Mannaert followed that up with Weegee, published in Dutch and French by Sarbacane and in English by Conundrum Press.
Praise For…
---
"[Mannaert's] dynamic style, with thin linework accompanied by vibrant greens and lush salmon pinks, eschews traditional paneling in favor of floating, borderless glimpses into Yasmina's world. ...Yasmina's passionate advocacy for eating with care sustains a wholesome humor throughout."—Publishers Weekly


"A delicious and nutritious concoction of fun, thrills, and consumer consciousness, this comic from the Belgian Mannaert cooks up heartfelt characters, an exciting sci-fi mystery, and a bunny gag worthy of old Bugs himself."—Booklist

"Mannaert's graphic novel is a silly romp of a corporate takedown heist, with charmingly drawn characters and well-paced action sequences."—Kirkus

"Yasmina's creations look absolutely scrumptious and it's clear that dad and daughter bond over her meals, making this ultimately a celebration of the art and heart of cooking; readers will just wish that Yasmina would share a...recipe or two."—The Bulletin of the Center for Children's Books

"Wauter, whose art was so exemplary on the recent Weegee bio by Max de Radigues, is genius at focusing in on the physical humor of a single moment, elongating it into absurd proportions and making Yasmina's world burst with energy regardless of the vantage point the reader is offered." —The Beat