You are here
Back to top
The Hidden Mickeys of Disneyland (Paperback)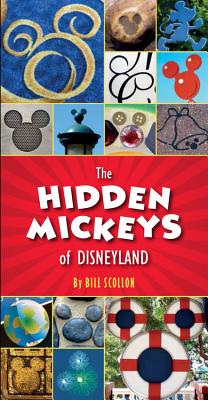 Description
---
Ready for a Hidden Mickey scavenger hunt through the Disneyland Resort?
Walt Disney was fond of saying, "I only hope that we never lose sight of one thing: that it was all started by a mouse." And so it is only appropriate that the mouse is incorporated into nearly every aspect of the Disney parks and resorts. In some cases, Mickey's presence is obvious, as in the Partners statue that stands in the center of the hub at the end of Main Street, U.S.A. But in other cases, Mickey's influence is a bit more hidden.
So what exactly is a Hidden Mickey? Quite simply, it's an artistic representation of Mickey that was intentionally placed amid the architecture and design of the parks and resorts. Oftentimes it's the familiar three-circle shape of his ears and head. Other times it might be a profile of his face or a full-body silhouette. Disneyland Guests with keen eyes can tell you that Mickey pops up all over the resort, often in the most unexpected places.
With this resort wide field guide, you'll be guided toward each Hidden Mickey, first with a general hint—if you're up for a challenge—and then with a very specific clue. It's so much search-and-find fun, you might forget about your FastPass reservation for Big Thunder Mountain Railroad!
Planning a trip to Disneyland? Be sure to have all the official guides from Disney Editions:
Birnbaum's 2020 Disneyland
About the Author
---
Bill Scollon is an award-winning author and media producer with over thirty years of experience creating entertaining and enlightening content for kids—on screen, on stage, and on the page. Bill's early years were spent touring puppet and costumed-character shows as part of the family business. His move into media production led to a career at Disney that spanned two decades. Bill and his wife Barbara make their home in Burbank, California. They have two sons, Alex and Justin.