You are here
Back to top
Race for the Ruby Turtle (Hardcover)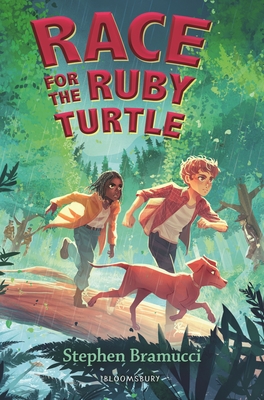 $17.99

Coming Soon - Available for Pre-Order Now
Description
---
A heartfelt middle grade eco-adventure story full of friendship and self-discovery, perfect for fans of Dan Gemeinhart and Gary D. Schmidt.

Jake Rizzi is about to spend the summer at his great-aunt's cabin in the mossy, sodden Oregon backwoods. His parents seem to need a break from him and his ADHD. He tries not to take it personally, but isn't sure about his aunt's off-the-grid lifestyle and strange stories about a turtle with a ruby-colored shell.

Soon, Jake learns that the turtle is more than a myth. And thanks to a viral article online, strangers from all over the world have arrived to search for it--including a sinister animal poacher and towering twin zoologists from Sweden. Jake is sure that finding the turtle will change how people see him and his "attention issues"--but he'll need help. Setting off with his new friend Mia, Jake must decide what matters more--personal glory? Or protecting the wonders of nature?
About the Author
---
Steve Bramucci is the author of The Danger Gang series, travel/food writer, adventurer, teacher, and storyteller. He's rowed down the Mekong River in a traditional Vietnamese x'ampan, ventured into the Outback with Aboriginal elders, and spent four months driving a rickety Nissan Patrol through East Africa.

Steve's story of exploring a long-forgotten pirate graveyard in Madagascar won the $10K Trazzler Oasis prize and his trip across Australia in a car fueled with French fry oil was turned into a TV show. He's written for National Geographic Books, Afar, Outside, the Orange County Register Magazine, and dozens of other outlets. He's the founding editor of the LIFE section at Uproxx.com and is a passionate conservationist. He lives in Southern California with his family.

www.stephenbramucci.com
@stevebram
Praise For…
---
"A thrilling mystery adventure filled with a deep love of nature; you'll be rooting for Jake and Mia from beginning to end." —Varian Johnson, award-winning author of TWINS and THE PARKER INHERITANCE

"The author also leaves readers with the priceless insight that 'the only way to protect the
natural world is to love it.'" —Booklist Reviews

"Bramucci packs in teachable moments around digital literacy, mindfulness, and ecological interdependence . . . A wild romp that champions making space for vulnerable creatures and each other." —Kirkus Reviews