You are here
Back to top
The Very Best Hug (Board book)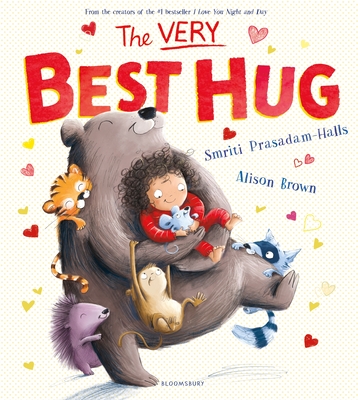 $9.99

Usually Ships in 1-5 Days
Description
---
A delightful picture book about the power of hugs, from the mega-bestselling creators of I Love You Night and Day, You Make Me Happy and I'll Never Let You Go.

Have you ever wondered who gives the very BEST hug?
The kind that's warm and cozy and snug?
Extra squeezy, but never too tight,
the kind that fits you COMPLETELY right?

From bear hugs to koala cuddles, hippo huddles to walrus wiggles, penguin pecks to porcupine prickles, there are a LOT of hugs to choose from.

But the perfect hug may not be far-in fact, it might be right where you are!
Who gives the best hugs? Have you guessed? It's the ones at home, who love you the best!

Full of silly and snuggly animal cuddles, this irresistible story from the bestselling creators Smriti Prasadam-Halls and Alison Brown is perfect for sharing and reading aloud.
About the Author
---
Smriti Prasadam-Halls has been a children's writer and editor for more than ten years and has written several children's books, including the bestselling Jingle Jangle Jungle, illustrated by Axel Scheffler. Smriti lives in Richmond-upon-Thames.
Praise For…
---
"With nearly endless variations, Prasadam-Halls has made hugging into a zoo of opportunity for passing the love around." —School Library Journal

"Both tender and comic. . .[with] an eminently huggable ending." —Publishers Weekly

". . . beautifully illustrated facial expressions and the buoyant, clever lines of verse render this book a hilarious and whimsical ride sure to delight both children and the adults who read to them. . . A delightfully silly celebration of familial love." —Kirkus Reviews

"The roly-poly pair are delightfully expressive and adorable, and the sentiments expressed are those caregivers appreciate and celebrate in their children." —Kirkus Reviews, on YOU MAKE ME HAPPY

"The last lines, echoing the premise of the whole book, will be reassuring to most. . . . Sweet." —Kirkus Reviews, on I'LL NEVER LET YOU GO

"Another sweet book bearing a message of unconditional love and support. . . . The gender-neutral animal pairs could easily represent a number of close relationships, from parent and child to grandparent and grandchild to an older and younger sibling. . . . A perfect choice for one-on-one sharing and a comforting bedtime story." —School Library Journal, on I'LL NEVER LET YOU GO

"Prasadam-Halls's rhymed couplets have a pleasing lilt. . . . The gender-neutral, cross-species portrait of affection gives the book the potential for broad appeal--the animals' relationship could easily be between a single or adoptive parent and his or her child, or also between two close friends." —Publishers Weekly, on I LOVE YOU NIGHT AND DAY

"Brown's soft, full-spread artwork nicely matches Prasadam-Halls's brief rhyming verse. . . . This gentle, reassuring story is a calming tale just right for family or group sharing." —School Library Journal, on I LOVE YOU NIGHT AND DAY

"Tender and comic . . . eminently huggable" —Publishers Weekly