You are here
Back to top
The Great Change (Paperback)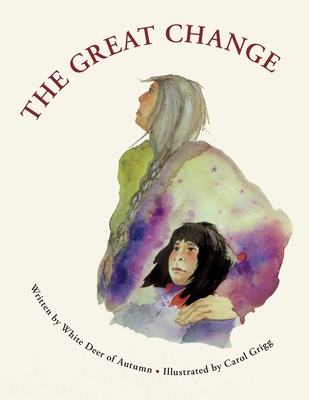 $10.99

Usually Ships in 1-5 Days
Description
---
What happens when we die? In this beautifully illustrated Native American tale, a wise grandmother explains their people's understanding of death to her granddaughter as they work together on the land, for which they show an exemplary respect and love.

In this Native American tale, a wise grandmother explains the meaning of death, or the Great Change, to her questioning granddaughter. While going through their daily tasks in the Native way, taking from Mother Earth only what is needed and returning what is not used so as to replenish her, nine-year-old Wanba asks, "Why do fish have to die? Why does anything have to die? Why did Grandpa have to die?" Grandmother explains that just as a caterpillar "dies" only to become a beautiful butterfly, there is no "death" in the Circle of Life—only the Great Change.

This is a story of passing on tradition, culture, and wisdom to the next generation. It is a moving tale for everyone—child and adult—who wonders about what lies beyond this life.
About the Author
---
Gabriel Horn, White Deer of Autumn, is an award-winning author and educator, who wrote Spirit Drumming, Motherless, Transcendence, and The Great Change, as well as several short stories in various anthologies and many articles on writing in college texts and journals. Retired from teaching writing and literature in 2012, Gabriel Horn was honored professor emeritus at St. Petersburg College where he taught literature and writing for twenty-two years. For more than fifty years, from reservation schools and American Indian Movement (AIM) Survival Schools to public schools, colleges, and universities, and through his writings, White Deer of Autumn has unwaveringly advocated for the academic respect due the history, literature, and philosophy of Native America. He has been an advocate and activist for the spiritual rights of traditional Native peoples, as well as an outspoken defender of the natural world. He is a father and a grandfather and is the remaining member of the family of Princess Red Wing, Metacomet, and Nippawanock of the Narragansett Tribe/Wampanoag Nation. His uncles, Metacomet and Nippawanock, had written of Gabriel, saying; "We are proud of our nephew, for it is in blood as strong as his, that the words of the people ring on the land."

Carol Grigg, using earthy, desert-colored pastels, attempts to capture a sense of unity with nature in her work. This internationally recognized painter is known for her trademark Native American horse and ride, which to her symbolizes the Mother Earth that we are all compelled to ride. Her style is inspired by her own Native American Indian heritage. Her prints are sold in fine art galleries across the United States.
Praise For…
---
A gentle and sensitive story about mortality and the interconnectedness of generations and of life-forms that provides a nondoctrinal, reassuring response to a child's questions about the necessity of death. Grigg's watercolors are spare, with washes of brilliant color (cheering a potentially somber subject) against pure white pages. The characters are not romanticized, but the overall effect is delicate and impressionistic.


— —Patricia Dooley, University of Washington, Seattle Grades 3–6

This wistful text, based on a Native American tale, ponders the meaning of life and death—reaching the sensible if daunting conclusion that one is impossible without the other.…Delicate pastel watercolors capture the story's essence on gossamer wings with a pleasing combination of sophistication and childish impressibility.
— —Publisher's Weekly