You are here
Back to top
Classic Tales from India: How Ganesh Got His Elephant Head and Other Stories (Paperback)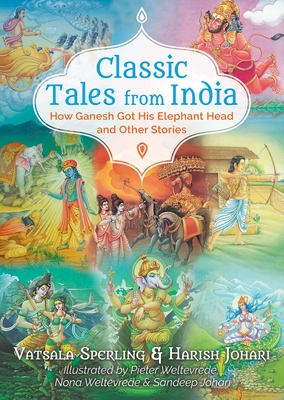 $18.99

Usually Ships in 1-5 Days
Description
---
Seven beautifully illustrated traditional stories that immerse the reader in the ancient culture of India as well as impart important life lessons

• Shares classic tales from India, including stories drawn from the Mahabharata, the Ramayana, and the Puranas, translated by the authors

• Illustrated throughout with glowing full-color paintings in traditional Indian style prepared according to the traditional Hindu canon

With this full-color illustrated collection of classic tales from India, you will learn about the playful, loyal, strong, loving, and wise gods, goddesses, and heroes of India. You will discover how the deity Ganesh, the remover of obstacles, got his elephant head, how the goddess Parvati won the heart of the great god Shiva, and how the goddess Ganga came to Earth from Heaven in the form of the holy Ganges River. You will discover how Krishna's childhood as superhero and mischievous boy prepared him to fulfill his destiny as an avatar of the god Vishnu. In two tales drawn from the Ramayana, you will learn about prince Ram and his victory over the ten-headed demon king Ravana and how the monkey-god Hanuman moved a medicine mountain to save Ram's brother. In two stories from the famous epic the Mahabharata, you will discover how Karna became the greatest archer in the world to help good triumph over evil and how Arjuna compassionately fought his own cousins to bring peace to the kingdom of Hastinapur.

The glowing illustrations, executed in transparent watercolors and tempera paints, are done in a centuries-old method traditional to India. Richly detailed, they bring to life the colorful cast of characters--humans, gods, and demons alike--and allow the reader to become immersed in the mystical world of ancient India.
About the Author
---
Vatsala Sperling, Ph.D., fluent in a number of Indian languages and Sanskrit, learned these traditional stories at her mother's feet and enjoys introducing them to children of the Western world. Before marrying and moving to the United States, she was the chief of Clinical Microbiological Services at the largest children's hospital in India. The author of Classic Tales from India, she lives in Vermont with her husband and son.

Harish Johari (1934-1999) was a distinguished North Indian author, Tantric scholar, poet, musician, composer, artist, and gemologist who held degrees in philosophy and literature and made it his life's work to introduce the culture of his homeland to the West.
Here is a hot link to a web site dedicated to Harish Johari's work that was set up by his students. http://www.sanatansociety.com/artists_authors/aa_harish_johari.htm

Pieter Weltevrede began his artistic studies with Harish Johari in 1977 and also studied with Shri Chandra Bal. He lives in the Netherlands with his wife and two children and travels to India annually.

Nona Weltevrede got in touch with Indian culture at a young age by watching his father and his mentor, Harish Johari, paint. A graduate of the Dutch Academy of Art and Design, St. Joost, he lives in Buren, Holland.

Sandeep Johari was raised by his uncle Harish Johari, who taught him classical Indian painting. He is the creative director in a graphic design studio in New Delhi, India.
Praise For…
---
"Vatsala Sperling and Harish Johari have woven a rich tapestry of stories and visuals that is a source of inspiration for children and a simple way to inculcate timeless values within them. This is a treasure to have in every house!"
— SHUBHRAJI, founder of Namah Vedanta Center and author of In the Lotus of the Heart

"Classic Tales from India is a delight both to the mind and to the heart. The illustrations and the write-ups are divine. This is truly a must for all Indophiles both in India and abroad."
— VANAMALI, author of Shiva and The Complete Life of Krishna

"Delightful storytelling delicately matched with colorful, evocative illustrations. An ideal way to bond through the art of myth and story and perfect for sharing in the classroom or the dining room. Turn off the TV and read this book aloud. Your family and friends will thank you!"
— SIMON CHOKOISKY, author of The Five Dharma Types

"This is an amazing book, beautifully written. I strongly recommend it to everyone, regardless of age. There is something for all of us to learn and enjoy. The authors articulate these stories from Indian mythology. In addition, the pictures in the book are beautifully illustrated."
— SENDURAI MANI, Ph.D., professor at the University of Texas MD Anderson Cancer Center

"Storytelling is an integral part of Indian culture. By narrating parables, fables, folktales, and spiritual and sacred tales that have been handed down from generation to generation, deep messages are passed along that remain printed in memory. With her roots in Indian culture and philosophy, Vatsala has written this book from a deeply spiritual heart. It will speak to readers from the East and the West."
— DINESH CHAUHAN, M.D., Swasthya Homeopathy Clinic, Mumbai, India

"This collection of India's classic tales of its gods and goddesses is brimming with material. The volume contains seven ancient stories told in detail, such as tales of Krishna, Ram, Shiva, and Parvati. Every tale has abundant illustrations on every page and is prefaced with information about the historical, cultural, or religious context of each story. Every story also ends with a note to teachers and parents providing some analysis and comprehension of its moral implications. Quite a packed volume for immersing yourself in the ancient mythology of India."
— Book Riot

"This FULL-COLOR illustrated collection of tales from India features eight traditional stories from the Mahabharata, the Ramayana, and the Puranas. This book is a treasure and visual delight for all ages!"
— Light of Consciousness Magazine

"This exciting book of traditional Indian stories is a complete gem. Immersive and detailed tales, gorgeous illustrations, and exciting heroes and heroines make Classic Tales from India a great pick for your reader's next adventure."
— Denise Mealy, The Children's Book Review