You are here
Back to top
Once Upon a Family (Hardcover)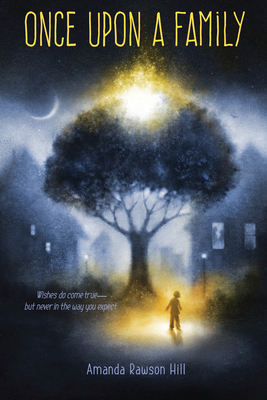 $19.99

Usually Ships in 1-5 Days
Description
---
What would you wish for? This middle-grade novel exploring what it means to become a blended family is perfect for fans of Rebecca Stead's The List of Things That Will Not Change.

12-year-old Winnie feels stuck. She's alone in a new town with a mom who doesn't seem to notice how miserable Winnie's new stepbrother and stepfather make her. One night, when Winnie makes a hasty wish, she nearly gets sideswiped by an odd bird, leading her to a strange oak tree with even stranger glowing leaves. Investigating the tree, Winnie discovers a nest of golden eggs with wishes inscribed on the shells. After Winnie accidentally breaks two of the eggs, the wishes come true. Winnie sneaks back to the tree to try to grant her own wishes. But when she realizes the wishes are coming true in unexpected and terrible ways, Winnie must find a way to fix everything. . . . .
About the Author
---
Amanda Rawson Hill grew up in Rock Springs, Wyoming with a library right out her back gate. She moved to Provo, Utah, to earn her bachelor's degree in chemistry at Brigham Young University. Today she resides in Atwater, California with her husband and five children. She loves to knit, homeschool, make music, and volunteer in the community.
Praise For…
---
"Hill enables readers to see deeply into Winnie, including her past, fears, anger, wishes, and the way she perceives her own story...Hill's writing is full of poetic references readers will recognize, as when Winnie feels 'like the oldest sibling in a fairy tale where only third children ever win.'...A modern blended family story with a sprinkling of magic." —Kirkus Reviews

"With immersive prose and a pinch of real magic, Amanda Rawson Hill spins a fairy tale about anxiety, anger, and acceptance that will linger with a reader ever after."—Cindy Baldwin, author of Where the Watermelons Grow

"An honest exploration of how anxiety can impact the stories we tell ourselves; readers will cheer for Winnie as she fights to write her own happily ever after." —Jessica Vitalis, author of The Wolf's Curse