You are here
Back to top
Akashic Record & Reiki Healing With Dry Fasting Third Eye Awakening for Beginners: Heal Your Energy & Awaken Your Empathic Abilities & Intuitive (Paperback)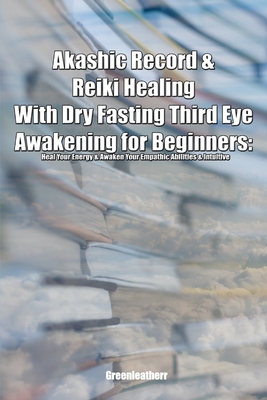 Description
---
This book contains proven steps and strategies on how to prepare yourself for the results of having an open third eye. It explains all the elements involved, including what to expect, and the downside of the process, and how to deal with all kinds of hindrances. It explains the role of the pineal gland in tapping your third eye chakra and what you can do to activate its energy and power. It also explains the yoga postures beneficial in opening, activating, and healing your third eye.
It is important that you know what you are up to in order to understand things better, see visions clearly, and never get afraid or discouraged in the process.
It also outlines the significant benefits that you get when you go on a dry fast. It highlights how dry fasting can help you make considerable changes - lose weight, strengthen immunity, think with clarity, prevent serious health conditions like hypertension, diabetes, and heart failure, among others, feel energized, and stay, look, and feel young, if you make dry fasting a regular part of your lifestyle.
More importantly, this book contains proven steps and strategies on how to do an effective dry fast. It gives you helpful techniques about how to go about doing the fast. It also gives you practical tips about what to do before and after going on a dry fast. It helps you appreciate that doing the right pre-fast and post-fast things is critical to making a successful dry fast.
This book is a thorough, meticulous, and easy-to-follow guide which will help you navigate your way through dry fasting. By helping you prepare, do, and come out of your fast successfully, this book helps you enjoy the health benefits that come with dry fasting.
Reiki is an alternative healing technique that does not rely on anything pharmaceutical whatsoever. In fact, it does not even rely that much on physical contact whatsoever. This technique uses the energy emitted by the human body. This technique is used to place some of the practitioners energy to clear the patient's ki pathways, which are the reasons why the person's body cannot heal itself. Once the ki pathways are cleared, the body can then start regenerating and healing itself from whatever it is that ails them.
You will learn more about Reiki when you continue reading this book, like the different forms of Reiki, and the various ailments that it can cure. And you will also learn how to do very basic reiki healing techniques on your own, you will learn how to heal yourself whenever you feel under the weather.
Also, you will be provided with the basics--including interesting historical points referencing the existence of the Akashic Records as a very real thing and not just a metaphor that embodies the idea of divine knowledge.
I will talk you through what it is and what purpose it serves. We will also discuss how you can develop access to it through meditation and all the different ways you can benefit from the information you'll be receiving.