You are here
Back to top
Aggie Morton, Mystery Queen: The Body under the Piano (Paperback)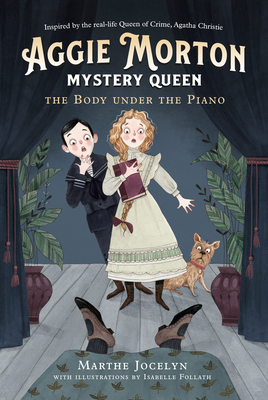 $9.99

Usually Ships in 1-5 Days
Description
---
A smart and charming middle-grade mystery series starring young detective Aggie Morton and her friend Hector, inspired by the imagined life of Agatha Christie as a child and her most popular creation, Hercule Poirot.

Aggie Morton lives in a small town on the coast of England in 1902. Adventurous and imaginative but deeply shy, Aggie hasn't got much to do since the death of her beloved father . . . until the fateful day when she crosses paths with twelve-year-old Belgian immigrant Hector Perot and discovers a dead body on the floor of the Mermaid Dance Room! As the number of suspects grows and the murder threatens to tear the town apart, Aggie and her new friend will need every tool at their disposal -- including their insatiable curiosity, deductive skills and not a little help from their friends -- to solve the case before Aggie's beloved dance instructor is charged with a crime Aggie is sure she didn't commit.
About the Author
---
Toronto-born MARTHE JOCELYN is the award-winning author and illustrator of over twenty books for children of all ages. Her most recent picture book for Tundra (which she also illustrated), Sam Sorts (2017), was honored by the United States Board on Books for Youth as an Outstanding International Book. Her picture book Hannah's Collections was shortlisted for the Governor General's Literary Award for Illustration, and her novel Mable Riley won the inaugural TD Canadian Children's Literature Award. Marthe is also the 2009 recipient of the prestigious Vicky Metcalf Award for her body of work.

ISABELLE FOLLATH has been a freelance illustrator for advertising agencies, magazines and book publishers for over fifteen years, but her true passion lies in illustrating children's books. She uses pen and ink, watercolor and pencil alongside digital techniques to create her work. She loves drinking an alarming amount of coffee, learning new crafts and looking for the perfect greenish-gold color. Isabelle lives with her family in Switzerland.
Praise For…
---
One of CCBC's Best Books for Kids and Teens Fall 2020
One of CBC Books' Best Middle-Grade and Young Adult Books of 2020
One of the Ontario Library Association's 2020 Best Bets selection (Honourable Mention, Junior Fiction category)

PRAISE FOR The Body under the Piano:

"Pure delight—brimming with adventure, mystery and fun. I loved every character, every clue and every page. Now that I know all the answers, I have only one question left: why did this book have to end?" --Rebecca Stead, author of Newbery Award winner When You Reach Me

"Finished it at 5:20 am. Truly refreshing -- a tour de force." --Gregory Maguire, New York Times bestselling author of Wicked

"Mystery lovers, you need to check it out!" --Kristin Cashore, author of the Graceling series

"Heartfelt, funny and suspenseful, The Body under the Piano is an excellent beginning to what is sure to be a pleasantly gruesome series." --STARRED REVIEW, Shelf Awareness

"Jocelyn offers an enjoyable entrée to the Queen of Crime and to the genre; the narrative's arch tone, the girl's vital grandmother, and the novel's surfeit of extravagant teas should please." --Publishers Weekly

"A remarkable, cool, and likable detective." --Kirkus Reviews

"Jocelyn keeps readers guessing throughout the book, but the eventual reveal of the perpetrator is believable, carefully clued, and satisfying. A solid dose of tart wit makes it an extra-enjoyable read." --Horn Book Magazine

"Jocelyn offers young readers a cracking good read." --Globe and Mail

"There's a great deal of humour, adventure, excitement, derring-do and midnight scary things." --CBC

"A delightful mystery . . . Fans of Christie and her famous detective Poirot will revel at the thought of these two joining forces as youngsters, and readers unfamiliar with the landmark author will find this an enticement to read more." --Bulletin of the Center for Children's Books

"Compelling, splendidly surprising murder mystery." --Booklist

"Perhaps spring's most sparkling debut." --Toronto Star

"I wouldn't be surprised if 12-year-old Aggie Morton and Hector Perot capture the hearts of today's young readers much the way Nancy Drew and The Hardy Boys did the kids of my generation." --Montreal Gazette

"A robust, witty tale that will catch the attention of many readers." --Winnipeg Free Press

"Though mentions of 'newsies' and 'petticoats' may seem oldfangled, the book's themes of women's rights and immigration remain pointedly relevant . . . Aggie Morton can be counted on to reveal the truth — to the delight of middle-grade readers." --Quill & Quire

"Skillfully structured and carefully paced for maximum suspense. Highly Recommended." --CM Reviews

"As the label on Jeever's Lavender Pocket Salts located by Aggie cautions, 'Refuse Worthless Imitations' of this inventive book." --Imaginary Elevators

"[A] delight from start to finish." --Historical Novel Society

"Jocelyn's narrative flows smoothly, her prose is crisp, and the charming old English town setting adds intrigue to the story." --Prairies Book Review

"This book [is] a wonderful way for Christie fans to introduce young readers to this literary hero." --CityParent

"Readers will soon be caught up in the twists and turns of this remarkable novel." --Resource Links