You are here
Back to top
Blue, Barry & Pancakes: Danger on Mount Choco (Hardcover)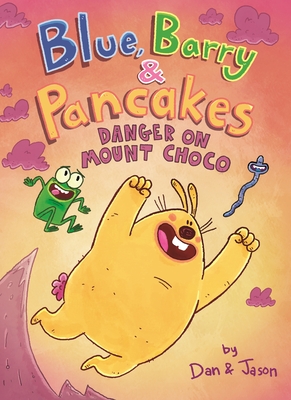 $12.99

Usually Ships in 1-5 Days
Description
---
The third volume of the children's graphic novel series of friendship stories for emerging readers, featuring three friends (a bunny, a worm, and a frog) who get into conflicts and adventures driven by their very different personalities.

Blue, Barry, and Pancakes are best friends! They love funky music, penguins that wear hats, and going on BIG adventures!

One day, Barry convinces Blue and Pancakes to enter an epic sundae-making contest. Blue and Pancakes just want to have fun, but Barry is in it to WIN IT. He knows exactly how he's going to get the trophy, but it's going to be dangerous. It'll take sacrifice. He might even lose his pals along the way…

Like all friends, Blue, Barry, and Pancakes can make mistakes... but at the end of the day, they always have each other's backs. And tops, and sides, and fronts, too!
About the Author
---
Dan & Jason go back. Waaaaay back. They have directed award-winning commercials, created hit cartoon shows, and even sold a feature-film concept, but nothing has prepared them for this... the pinnacle of their storied career: publishing the hilarious and heartwarming comic tales of Blue, Barry & Pancakes?! Dan & Jason have packed it with everything they know about drawing, writing, and the enduring power of friendship. Please enjoy their comic book debut! They make everything together. They think it, draw it, write it, mix it, bake it, and serve it together. Teamwork!

Dan Abdo and Jason Patterson have been making stuff together for a very looong time! They created the animated television program Rocket Monkeys, and they've directed countless animated commercials for major global brands. Their short films have won numerous awards and their cartoons and comics have been published in The New Yorker and Nickelodeon magazine. Through all these different mediums their humor and storytelling always rings sweet, silly, and slightly twisted.

Jason Patterson and Dan Abdo met in the back of the art room in highschool, started drawing together, and never stopped. They both attended the Rhode Island School of Design and then both moved to New York City to begin their world conquest. These days Jason has jumped across the Hudson to live in New Jersey with his wife and two children. Dan returned to the place where it all started and lives in Vermont with his wife, two children, six chickens, two ducks, and one ancient cat. Even though they're hundreds of miles apart they still draw together every day.