You are here
Back to top
Time After Time (Best Wishes #3) (Hardcover)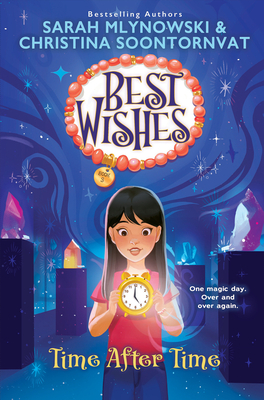 $15.99

Usually Ships in 1-5 Days
Description
---
The New York Times bestselling series!
Pass the magic on! This enchanting multi-author series is like American Girl with magic.
In this book, written by bestselling author Sarah Mlynowski and three-time Newbery Honor recipient Christina Soontornvat, the magic bracelet comes to a girl in Texas, who ends up in a Groundhog Day-style time loop.
Lucy Usathorn of Fort Worth, Texas is super excited for her class trip to the Natural History Museum, where her dad works. Sure, Ms. Brock, the strict school librarian who happens to be dating Lucy's dad (awkward) is chaperoning, but it'll still be the best day ever, right?
Wrong! Lucy has to watch in shock and humiliation as her dad proposes to Ms. Brock. Lucy is distraught. If only she could do this whole day over from scratch . . .
Enter the magic bracelet. It arrives in the mail, with a long letter from Addie, a girl in Columbus, Ohio, who had the bracelet last time. The bracelet grants wishes, and Lucy knows just what to wish for: a do-over day, where she'll fix everything and most importantly, prevent her dad from proposing to Ms. Brock.
The wish comes true--but not quite as Lucy expected. Her day keeps repeating over and over, and things keep getting worse in unique (and hilarious) ways. With the help of her new long-distance friends, Addie and Becca, will Lucy be able to figure her way out of this time loop . . .before it's too late?
About the Author
---
Sarah Mlynowski is the New York Times bestselling author of the Whatever After series, the Magic in Manhattan series, Best Wishes, Gimme a Call, and a bunch of other books for teens and tweens, including the Upside-Down Magic series, which she cowrites with Lauren Myracle and Emily Jenkins and which was adapted into a movie for the Disney Channel. Originally from Montreal, Sarah now lives in Los Angeles with her family. Visit Sarah online at sarahm.com and find her on Instagram, Facebook, and Twitter at @sarahmlynowski.

Christina Soontornvat is a three-time Newbery Honoree, a Sibert Honoree, and a Kirkus Prize winner. Her highly acclaimed backlist includes the middle grade books The Tryout, The Last Mapmaker, A Wish in the Dark, and All Thirteen; the picture book To Change a Planet; and the chapter book series Diary of an Ice Princess and Legends of Lotus Island. Christina lives in Austin, Texas, with her family. You can learn more about her work at soontornvat.com.
Praise For…
---
Praise for Best Wishes #3:
"[A] lighthearted yet poignant tale. Once again, the fantastical premise is used to wonderful effect--as Lucy relives her day, she eventually learns a much-needed lesson...Gentle, inventive, and delightfully magical." -- Kirkus Reviews
Praise for Best Wishes #2:
"Mayhem, confusion, twists and turns, and even laugh-out-loud hilarity ensue...Delightful, with just the right touch of magic." -- Kirkus Reviews
"Provides welcome humor as well as insights...engaging and fun." -- Booklist
Praise for Best Wishes #1:
"Readers will love Becca... A coming-of-age tale told with humor, compassion, and more than a touch of magic." -- Kirkus Reviews
"The lively first volume in a planned series about a magical bracelet capable of bestowing a single wish [has a] brisk pace and...may well be helpful to girls ages 7-11 who are in friendship throes." -- The Wall Street Journal
"An empathetic heroine and winningly absurd situations offer over-the-top hilarity." -- Publishers Weekly
Praise for the Whatever After series:
"Kids will race through these laugh-out-loud, action-packed, magical adventures." -- Max Brallier, New York Times bestselling author of The Last Kids on Earth series
"A dazzling gem of a series!" -- Karina Yan Glaser, New York Times bestselling author of The Vanderbeekers series
"The feminist in me adored it, and the mother in me loved how my daughter would long to cuddle in close as we read together." -- Danielle Herzog, blogging for The Washington Post
"Hilarious... with unexpected plot twists and plenty of girl power." -- Booklist
"An uproariously funny read. The swift pace of the tale and non-stop action... will enchant readers from the first page." -- Kirkus Reviews
"Giddy, fizzy, hilarious fun!" -- Lauren Myracle, author of Luv Ya Bunches
"Tons of fractured fairy tale fun!" -- Meg Cabot, author of Allie Finkle's Rules for Girls and The Princess Diaries series
Praise for The Tryout:
"A captivating middle-grade gem." -- The New York Times Book Review
* "Funny, relatable, and genuine." -- Kirkus Reviews, starred review
* "Captures every nuanced emotion." -- School Library Journal, starred review
* "Genuinely nail-biting." -- Publishers Weekly, starred review
* "Cringe-worthy in the best possible way...inspiring and insightful." -- Shelf Awareness, starred review
"Delightfully expressive...a standout." -- Booklist