You are here
Back to top
Sail Me Away Home (Show Me a Sign Trilogy, Book 3) (Hardcover)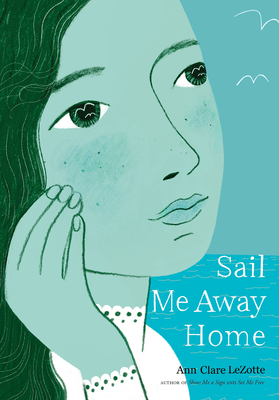 $18.99

Usually Ships in 1-5 Days
Description
---
This gripping story, set in the world of the award-winning Show Me a Sign and Set Me Free, completes an unforgettable trilogy centering the d/Deaf experience.
"Thrilling, important, and profoundly moving. A true gift." -- Brian Selznick, creator of the New York Times bestsellers Big Tree and The Invention of Hugo Cabret, winner of the Caldecott Medal
As a young teacher on Martha's Vineyard, Mary Lambert feels restless and adrift. So when a league of missionaries invite her to travel abroad, she knows it's a once-in-a-lifetime opportunity. Paris is home to a pioneering deaf school where she could meet its visionary instructors Jean Massieu and Laurent Clerc--and bring back their methods to America!
But the endeavor comes at a cost: The missionaries' plan to "save" deaf children is questionable at best--and requires Mary's support. What's more, the missionaries' work threatens the Wampanoag and other Native peoples' freedom and safety. Is pursuing Mary's own goals worth the price of betraying her friends and her own values?
So begins a feverish and fraught adventure. Brimming with vivid detail and startling insight, Sail Me Away Home will enrich your understanding of the d/Deaf experience as it celebrates d/Deaf history, culture, and community.
About the Author
---
Ann Clare LeZotte is a completely deaf and bilingual-bicultural (ASL/English) member of the Deaf community, and an essential voice for Deaf / HOH, disabled, and marginalized youth. She is the author of the Schneider Family Book Award-winning novel Show Me a Sign, which was named a best book of the year by NPR, Kirkus Reviews, School Library Journal, the New York Public Library, the Chicago Public Library, and American Indians in Children's Literature, as well as its stand-alone companions Set Me Free and Sail Me Away Home. Ann worked for many years as a youth librarian before becoming a full-time writer. She lives in Gainesville, Florida.
Praise For…
---
Praise for Sail Me Away Home:
"LeZotte's prose is as lovely and descriptive as ever. . . . Without turning the story into a lecture, she depicts the benefits of bilingual education for deaf students and weaves Mary into Deaf history. . . . Fans will be pleased with this third installment in a delightful series." -- Kirkus Reviews
"With Sail Me Away Home, Ann Clare LeZotte completes her stunning trilogy of books that simultaneously tells the breathtaking story of Mary Lambert, a brave Deaf girl in 19th century America, while also shining an important spotlight on Deaf history itself. The book is a thrilling, important, and profoundly moving evocation of the Deaf experience from a brilliant Deaf writer. Thank you, Ann Clare LeZotte, for the gift of Mary Lambert, a character we can all relate to and will never forget." -- Brian Selznick, bestselling creator of Big Tree and the Caldecott Medal winner The Invention of Hugo Cabret
"Readers will be delighted that Mary's story continues in this compelling seafaring adventure. A fascinating historical backdrop, timeless social issues, and Mary's sense of humor add layers of depth to the story. Mary is a relatable hero everyone can look up to, with her fierce determination, compassion, and commitment to stand up for those who've been cast aside." -- Lynne Kelly, author of the Schneider Family Book Award winner Song for a Whale
"LeZotte deftly weaves Deaf history throughout Mary's adventures. This book is *kissfist*!!!" -- Alex Gino, award-winning author of Melissa and Green
"A beautifully written, fascinating, and nuanced historical middle grade series written by a deaf author." -- Book Riot
Distinctions and Praise for Set Me Free:
"Exciting and heartfelt throughout. Mary and her world are instantly captivating, and her daring rescue mission will keep readers hooked until the very end. In addition to the central themes of ableism and language deprivation, LeZotte naturally weaves in social issues of the time that still resonate today, including racism, colorism, feminism, and colonialism. Readers who enjoyed the previous title will be particularly delighted to read about Mary's further adventures. A simultaneously touching and gripping adventure." -- Kirkus Reviews
"Full of adventure and twists, and LeZotte never shies away from addressing racism, ableism, or sexism…the book's themes resonate today, as Mary fights for the rights of all people and offers hope to readers facing challenges. A gripping tale of historical fiction." -- Booklist
"Throughout, as in the previous novel, LeZotte sensitively interweaves and illuminates historical, white attitudes toward deaf people, the Wampanoag people, and the Black population, all the while championing Mary's forthright insistence that all be treated with respect. Mary seems set to become a true hero-adventurer, an almost larger-than-life sleuth, teacher, and woman of action; and while the story's subject matter is serious in its engagement with history's ills, LeZotte conveys a sense of real enjoyment in having Mary disrupt...the prejudices and expectations of the status quo." -- The Horn Book
"A riveting story of courage and compassion. I could not put this book down! By bringing the cruelties of our past out of the shadows, Ann Clare LeZotte shines a light for our way forward." -- Christina Soontornvat, author of the Newbery Honor book A Wish in the Dark
"Set Me Free kept me turning pages until the very end. Ann Clare LeZotte challenges us to examine our own often-skewed perspectives and reminds us that human dignity is innate and that kindness is a universal language." -- Ann E. Burg, author of the Claudia Lewis Award winner Flooded: Requiem for Johnstown
"Ann Clare LeZotte has given readers a beautiful gift. Set Me Free is a riveting story about a girl's struggle for deaf dignity and the hope for understanding." -- Aida Salazar, author of the Jane Adams Peace Award Honor book The Land of the Cranes
"Mary Lambert's strong spirit, observations, and concerns about all aspects of life, and love for people make her so inspiring!" -- Penny Gamble-Williams, activist and Spiritual Leader of the Chappaquiddick Tribe of the Wampanoag Nation
"Secrets, suspense, and surprises abound, but at the heart of Ann Clare LeZotte's brilliant novel are two girls who have much to say despite a world determined to silence them." -- Lisa Yee, author of Maizy Chen's Last Chance
Distinctions and Praise for Show Me a Sign:
Schneider Family Book Award Winner
Jane Addams Children's Book Award Finalist
New England Book Award Finalist
NPR Best Books of 2020
New York Public Library Best Books of 2020
Chicago Public Library Best Boooks of 2020
Kirkus Reviews Best Books of 2020
School Library Journal Best Books of 2020
American Indians in Children's Literature Best Books of 2020
Capital Choices Best Books List
CCBC Choices Best of the Year List
"LeZotte's novel is more than just a page-turner. Well researched and spare, it's a sensitive portrayal of a young girl's fight for respect and human dignity... Like Laurie Halse Anderson's Seeds of America trilogy, this work of historical fiction offers a fresh perspective on the post-Revolutionary War years by exploring issues that are just as relevant today. Middle-grade readers of every age will find a girl to root for who is asking all the right questions as she grows." -- Newbery Medalist, Meg Medina for The New York Times
* "A must-read." -- Kirkus Reviews, starred review
* "Will enthrall readers...profound." -- The Horn Book, starred review
* "Expertly crafted...Exceptionally written." -- School Library Journal, starred review
* "Engrossing." -- Publishers Weekly, starred review
"Show Me a Sign is the rare book by a Deaf writer illuminating the Deaf experience for young readers. LeZotte takes us on an extraordinary journey that Deaf readers will surely identify with, and which will come as a revelation for hearing readers, reminding us that, as LeZotte says in the book, 'We are fine as we are made.' Show Me a Sign is a triumph for everyone!" -- Brian Selznick, creator of Wonderstruck and the Caldecott Award winner, The Invention of Hugo Cabret
"There is so much to love about Show Me a Sign, I hardly know where to begin. LeZotte's storytelling is engrossing, and Mary is an endearing, resilient hero. This book blew me away. I can't wait to share it!" -- Alex Gino, Stonewall Award-winning author of Melissa
"Show Me a Sign celebrates our differences and our sameness, our past and our future. Spend time in Mary's world. You'll be better for it." -- Erin Entrada Kelly, author of the Newbery Award Winner, Hello, Universe
"Precise and thoughtful... LeZotte's depiction of language is striking -- the reader sees the difference in conversations in spoken English and MVSL -- and she thoughtfully addresses tensions among the white, Black, and Wampanoag people who share the island. LeZotte, who is Deaf, makes the point that nothing should stand in the way of building community and seeking equality, a sentiment that resonates today." -- Booklist
"An interesting and very enjoyable work of historical fiction about a time period and topic that has rarely been written about... LeZotte's writing is fresh, crisp, and exciting. The way she portrays the deaf community and the nuances of sign language make the story all the more informative and readable... The information in her [back matter] notes is so intriguing." -- School Library Connection, Highly Recommended