You are here
Back to top
When Fall Comes: Connecting with Nature as the Days Grow Shorter (When Seasons Come) (Hardcover)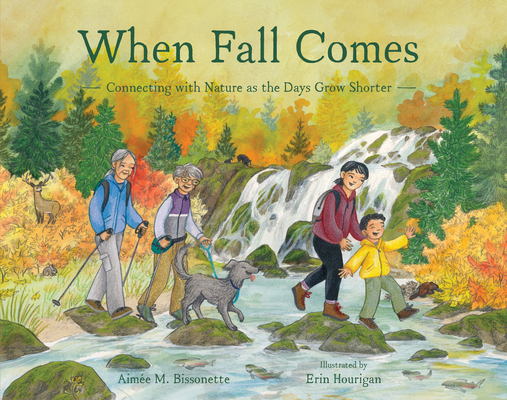 $17.99

Usually Ships in 1-5 Days
Description
---
From the author and illustrator of When Winter Comes—which received a Publisher's Weekly starred review—this beautifully illustrated, poetic children's picture book celebrates the joy of families being out in nature in the fall season, and discovering wildlife busily preparing for the winter months ahead.

Next up in the When Seasons Come series, this gorgeous picture book captures the joy of a family enjoying the outdoors in fall as they explore a broad range of ecosystems, filled with diverse animal habitats, after the summer crowds have left the trails.  In this season, as the wildlife they discover along the way adapts and gets ready for the winter months ahead, the family also busily prepares for the seasonal change.

In autumn, as the air grows crisper and the days grow shorter, the family forages for mushrooms in the woods as chipmunks stash seeds in underground burrows, and red squirrels gather pinecones. As badgers dig new dens and bears look for the perfect spot to sleep away the winter, the family prepares their home for winter.

There is so much to discover and so much to do, as silver-red salmon fight their way up rushing streams, returning to places they were born, and mud flats fill with feeding shorebirds migrating for the winter, and aspen leaves change from green to gold.

This beautifully illustrated book will inspire families to get out and explore during the autumnal season. When Fall Comes is part of the When Seasons Come series that includes When Summer Comes and When Winter Comes board and picture books.
About the Author
---
AIMÉE M. BISSONETTE has written several picture books for children. Many of her books are inspired by her love of nature and her interest in "everyday heroes," people who made a difference to their families, friends, and communities and whose stories need to be told. Aimée's favorite place is anywhere outdoors, regardless of the season. She splits her time between her homes in Minneapolis, Minnesota and Michigan's Upper Peninsula. Learn more about Aimée at AimeeBissonette.com.

ERIN HOURIGAN is an illustrator and author in Portland, Oregon. She grew up in Southern California, and studied illustration at Cal State Fullerton before moving to Oregon, where she learned to trade the waves for pine trees and rivers. She draws much of her inspiration from the world around her and loves spending time outdoors, whether it's on a hike or just out for a walk around town. Learn more about Erin at ErinHourigan.com
Praise For…
---
"This beautiful picture book is the third installment in the poetic When Seasons Come series and is a must-read for fall."--Brightly